Overview/Description of the Office
Higher education institutions are mandated to render extension service hand in hand with instruction, research and production. This is in recognition of the vital role that colleges and universities play in the development of communities especially the underserved and depressed.
Batangas State University, as a leading institution of higher learning, is committed to carry out its extension service function with the creation of the Office for Extension Services under the ultimate goal of achieving sustainable Programs, Project and Activities (PPAs) recognized not only in the province but also in the region. It is also intended that University can respond more adequately to the training needs of the communities, industries, public and private agencies/ organizations and the members of the academe.
 Extension Service Philosophy
An extension service that promotes inclusive growth and empowers communities and other vulnerable sectors through research- and rights-based extension Programs, Projects, and Activities (PPAs) in collaboration with government and non-government agencies, and private partners towards attainment of Sustainable Development Goals.
Extension Service and the BatStateU Strategic Plan 2019-2029
The Extension Services of the University is part of its Strategic Plan, particularly Pillar 3 on Social Relevance, to wit: "The University shall respond to problems in communities and industries through the development of relevant institutional programs, provision of expertise and quality services, and strategic partnerships and knowledge–based solutions to achieve a more sustainable future. In particular, the University shall take a proactive role in advancing the sustainable development strategies and educating the public on emerging and pressing social concerns."
The Goal of Social Relevance as a Pillar of the Strategic Plan is to provide responsive sustainable solutions for social development through community partnerships. In order to attain this, the strategy identified is through intensifying research-based extension services programs focused on issues of national importance such as poverty, protection and preservation of natural resources, and disaster risk reduction and management.
Organizational Structure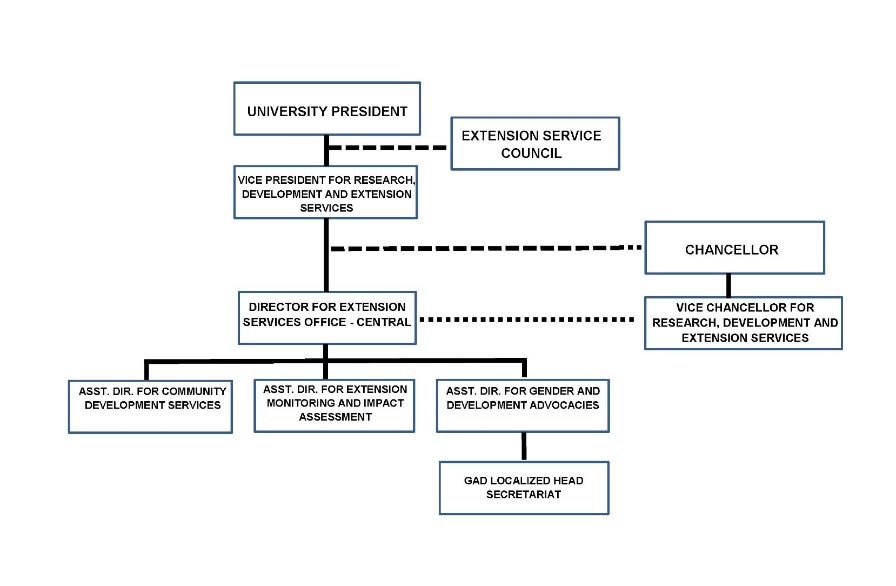 Extension Agenda
The University's Extension Services purposively acts to communicate, persuade and help specific sectors or target clienteles (as distinguished from those enrolled in formal degree programs and course offerings) to enable them to effectively improve production, community and/or institutions, and quality of life (CHED CMO No. 8, Series 2008) through its Extension agenda. The Extension Agenda intends to contribute to the attainment of the 17 Sustainable Development Goals, and corresponds to the Programs implemented by the Office, namely:
Other Projects Implemented